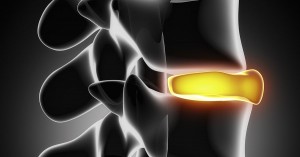 Stop the progression of spinal degeneration
As we age, the discs in our spine start to naturally break down due to normal, everyday living . This is commonly referred to as disc degeneration and can result in pain in the neck and/or back area–pain that is felt by almost half of the population 40 years of age or older . For those over 80, this rate doubles to a whopping 80 percent, which makes understanding what factors promote spinal degeneration critical to raising the quality of life as we enter our later years. Fortunately, recent research provides some very important information in this area.
Disc Degeneration Risk Factors Revealed In Recent Study
On November 9, 2015, a study conducted by health experts from Mie University Graduate School of Medicine in Japan, Osaka University (also in Japan), and Rush University Medical Center in Chicago, Illinois was published in BMC Musculoskeletal Disorders. In this research, these experts followed 197 individuals living in Miyagawa, Japan who were over the age of 65 for a 10-year period, measuring their disc height at two year intervals to determine what factors, if any, contributed to their spinal degeneration at a faster rate.
What they discovered was that, over the time span of the study, the participants' disc height gradually reduced an average of 5.8 percent, with roughly 55 percent experiencing spinal degeneration in one or two of their discs. Furthermore, there were three factors that they identified that increased the likelihood of disc and spinal degeneration. They were: 1) being female, 2) having radiographic knee osteoarthritis, and 3) the presence of low back pain when the study began.
Based on these results, women should take extra care to protect the discs in their spinal column from spinal degeneration, and potentially saving themselves from experiencing neck or back pain later in life. Some options for doing this include maintaining a healthy weight, avoiding repeated lifting of heavy objects, and not smoking as studies have found that smokers tend to experience disc degeneration and spinal degeneration at greater rates than non-smokers . Chiropractic can help with the other two factors.
For instance, in one study published in The Journal of the Canadian Chiropractic Association, researchers looked at 43 different individuals between the ages of 47 and 70 who were experiencing osteoarthritic knee pain. Some participants received treatment three times a week for two weeks and others served as a control. The subjects who engaged in treatment reported more positive results than those who did not, citing that, after the treatments they experienced fewer osteoarthritic symptoms, had greater knee mobility, and felt that it was easier to "perform general activities." And this was after just two weeks of care.
Chiropractic can also help lower back pain, further reducing the likelihood of disc degenerate and spinal degeneration at a faster rate when you age. That makes this specific remedy beneficial both now and well into the future–ultimately raising your quality of life.
https://siragusochiropractic.net/wp-content/uploads/2017/01/chiro-disc-degeneration-300x157.jpg
157
300
Dr. Frank Siraguso, Kansas City Chiropractor
https://siragusochiropractic.net/wp-content/uploads/2016/08/Siraguso-Chiropractic-Logo-2-300x103.png
Dr. Frank Siraguso, Kansas City Chiropractor
2017-01-16 00:08:41
2017-04-17 15:59:36
Risk Factors for Spinal Degeneration