Best Mattress for Arthritis Pain Relief
Finding the "right mattress" these days can become quite a challenge, especially if there is a severe condition involved. Every person has their sleeping preferences, style, condition, etc. specific to them, so they need a mattress that meets all their needs.
When you suffer from osteoarthritis, it's necessary to find a mattress that helps you sleep comfortably and pain-free. Life is already difficult with chronic pain and stiffness. Picking the wrong mattress can turn into a painful and costly experience.
Patients always ask me what the best mattress for back pain and hip pain is. I always tell them the best mattress for your back and hip pain is Saatva.
Arthritis And Your Mattress
Your mattress plays an integral role in ensuring a good night's sleep. If you do suffer from arthritis, then you need a mattress with a nice balance between support and pressure relief for your joints.
As the disease progresses, chronic inflammation increases in the knees, ankles, wrists, shoulders, back and hips. This can lead to many symptoms:
– Decrease range of motion
– Stiffness
– Pain
– Redness
– Swelling
Depending on the kind of arthritis you have and its severity, the symptoms can be worse in the morning. You wake up feeling stiff and achy, barely able to move. That is why it is so important to find the perfect mattress to can reduce in arthritis pain.
What To Look For In A Mattress For Rheumatoid Arthritis?
Choosing a mattress for rheumotoid arthritis doesn't have to be difficult, you just have to know what to look for. So here are some pointers to remember when choosing the best bed for arthritis.
1. Pressure Relief
You must be thinking "how can a soft mattress hurt my joints?" Valid question, but know that a mattress that offers good pressure relief and a mattress that bows or sags is not the same thing. When you sleep, your heavier body parts that stick out (hips and shoulder) apply more force to a mattress. A quality mattress will offer these areas pressure relief without sacrificing support in other areas (spine). A quality mattress will spread this force and reduce the pressure just at these points.
2. Support
A Supportive mattress is important for the neck and spine and should push up into you. It should feel like you are laying ON a cloud, not laying IN a cloud. If there isn't enough support, the mattress will sag and poorly disperse body pressure. It will do more damage than good to arthritis patients with back pain.
3. Perfect Temperature
No matter why you're purchasing a mattress, the temperature is critical to consider. Most mattresses retain heat because they are built from certain types of foam. With dense memory foam or latex, the airflow is weakened. This traps in heat and causes the mattress to become hot. A hot mattress will leave you waking up in the middle of the night in a puddle of sweat! The moisture can also damage the mattress over time, causing the materials to lose their resilience. To improve airflow and avoid heat retention in a mattress, the memory foam or latex must be "open-celled".
4. Quality Materials
Good quality materials are expensive, no doubt! But they are inevitable for great performance and durability in a mattress. A high-quality mattress will not sag, will last over time and ensure comfort for senior arthritis patients. Check with the mattress provider on where they source their materials.
5. Allows For Shifting
People with arthritis are prone to move a lot during the night because of the discomfort and pain. When you go to buy a mattress, keep this in mind. A mattress needs to be medium-firm rather than soft – plush to offer support in any position you sleep. Choosing a softer mattress will make it challenging for you to move during the night and get comfortable. And if you stay in one position, you will continue to sink into the mattress further, giving your body less support. This will cause you more pain, resulting in you having to switch positions more often.
Arthritis and Insomnia
Most people who suffer from arthritis also suffer from insomnia. According to research lack of sleep can lead to worsening of arthritis symptoms. The solution to this problem is quite simple, a good mattress. Having a mattress with a nice balance of support, pressure relief, temperature regulated, and made of good materials will keep you from experiencing pain, and in turn, waking up at night to switch positions.
Dr. Siraguso's Recommendation for the Best Mattress for Arthritis Back Pain: The Saatva Latex Hybrid Mattress
The Saatva Latex Hybrid Mattress offers wonderful support and pressure relief and is the best mattress for osteoarthritis. More specifically, in my opinion, it's the best mattress for arthritis related back and hip pain. It provides the best support and comfort and comes in various pressure options (I recommend firm). If you are suffering from joint pain and struggling to find a good mattress, this one is for you!
Saatva has three firmness options for arthritis sufferers of all weights. People can select the type of mattress based on the area of their condition. Remember, if you have arthritis in your back then you need support (choose the firm option). If you struggle with your shoulders and hips, then pressure relief is what you need (choose the medium-firm option).
This mattress is made of top-of-the-line materials that are reliant and will last over time. The top layer of the mattress is made of antibiotic-treated organic cotton. It also helps to enhance breathability and comfort.
Below that is a layer of New Zealand wool and five layers of Talalay latex to help support the lumbar spine and distribute weight correctly to give you solid pressure relief.
The Zoned pocketed coils also give an added layer of support. These coils are the core of the mattress. They are what keep the mattress's shape which allows it to last over time.
Finally, it's all held together with an organic eco loft pad.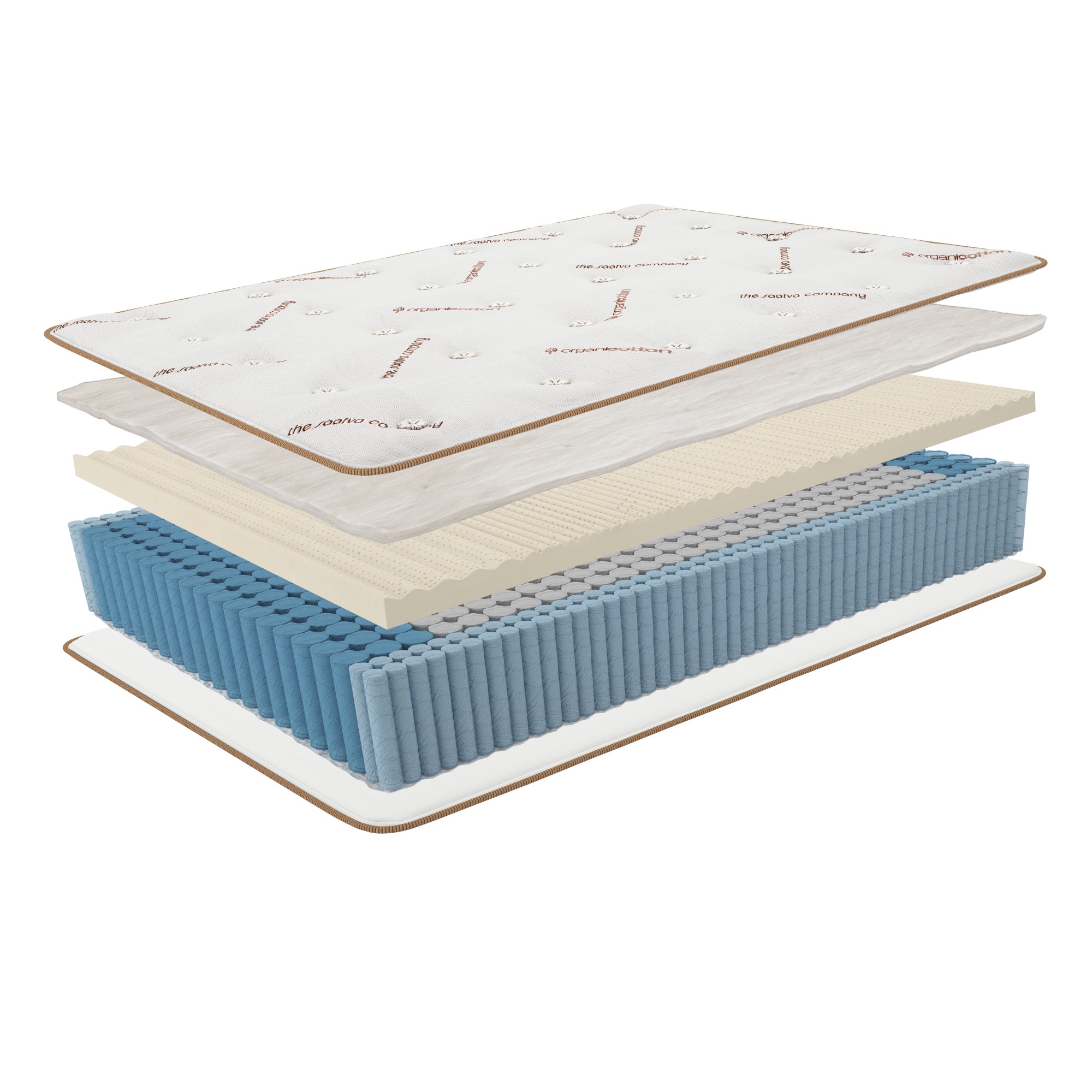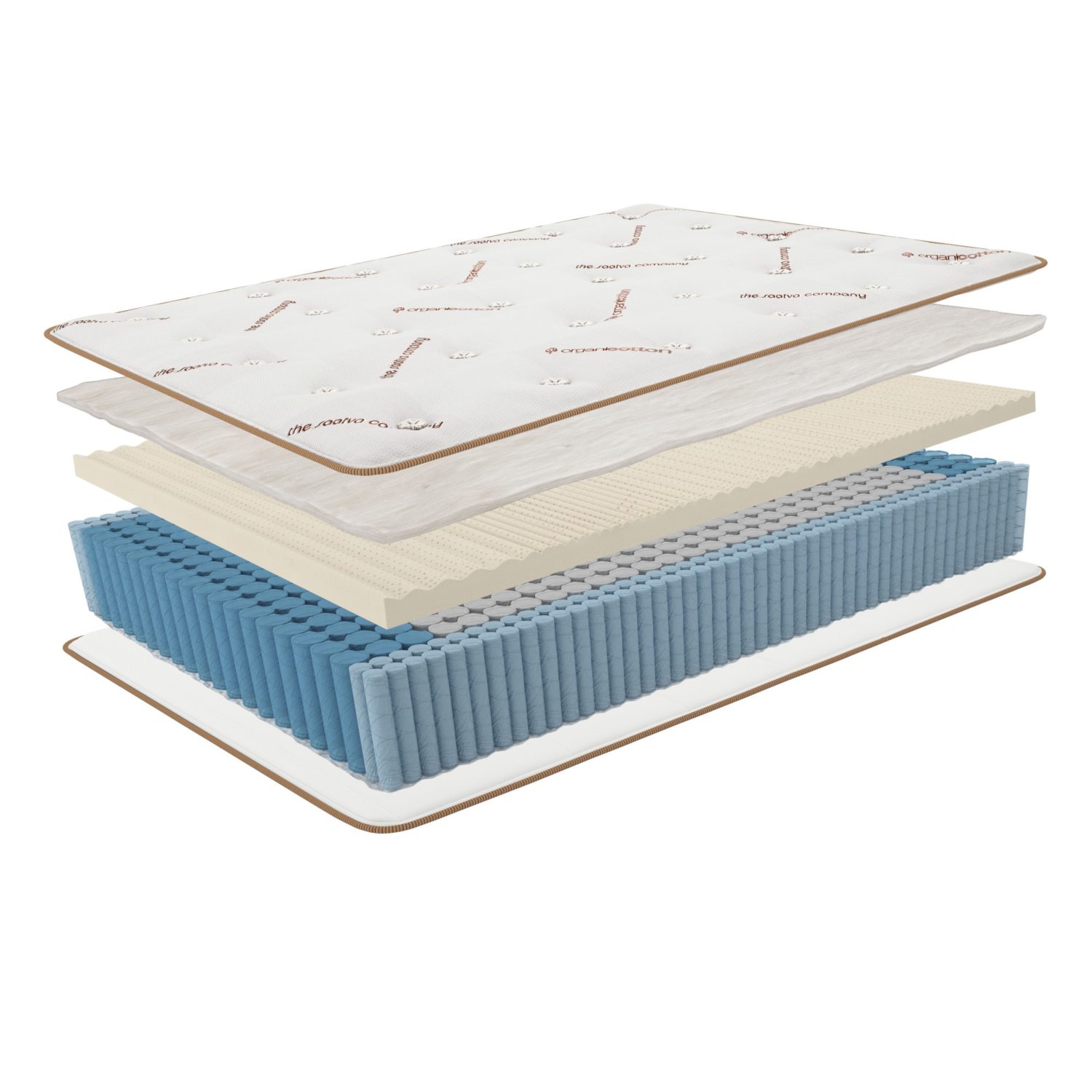 This mattress is open-celled and excels in temperature neutrality, weight distribution, and ease of movement. It accommodates most sleeping positions and weight groups. Best of all, Saatva is quite affordable.
In my opinion, Saatva is the best mattress for arthritis patients suffering from pain in hip joints. I highly recommend this mattress to people suffering from joints pain. It may help bring a pain-free positive change to your life!
Dr. Siraguso's 2nd Recommendation for the Best Mattress for Arthritis: Layla Hybrid Mattress
Another good option for those who suffer from arthritis is the Layla hybrid mattress. It comes with a reversible design. One side is medium for sleepers who need pressure relief. The other side is firm for back support. If you don't like the medium side and need more support, just flip it over.
Both sides were made with a memory foam comfort layer. Copper is infused into the foam which helps keep the mattress cool but also helps arthritis suffers with back pain relief. The copper infusion also provides antimicrobial protection to your mattress, keeping it fresh.
The Layla hybrid also has individually pocketed coils that give the mattress stability and responsiveness. This allows for very little motion transfer. These coils also prevent the edges from sinking and make it easier to get on and off the bed.
Thanks so much for reading, and I hope you have a supportive and restful sleep! 🙂