About Dr. Frank Siraguso
PROMPT, PERSONALIZED TREATMENT TO MEET YOUR HEALTHCARE NEEDS.
Gladstone area chiropractor Dr. Frank Siraguso was born and raised in the Northland Kansas City area. Dr. Frank Siraguso uses a highly effective low force technique that is comfortable for all ages. From pediatrics to adults, Dr. Frank Siraguso enjoys helping everyone!
His passion for the profession came in grade school after being treated by his uncle Dr. Vince Siraguso for several sports related injuries. After experiencing the wonderful benefits of chiropractic and seeing the relief it gave to so many others, Dr. Frank Siraguso decided early on to pursue a career in chiropractic.
Dr. Siraguso completed his undergraduate studies at Cleveland University, receiving his Bachelors of Science in Human Biology in just 3 years. In 2014 he graduated with his Doctorate in Chiropractic from Cleveland Chiropractic College. He continues to increase his knowledge and stay on the forefront of the chiropractic profession by attending monthly seminars and meetings.
He is also a member of the American Chiropractic Association. Dr. Frank Siraguso is Certified in Level 2 Fascial Movement Taping, Flexion Distraction, Thompson Technique, advanced extremity adjustments, and Leander Protocol. He also incorporates Webster technique and Active Release Technique into many of his treatment plans.
Dr. Frank P Siraguso, D.C.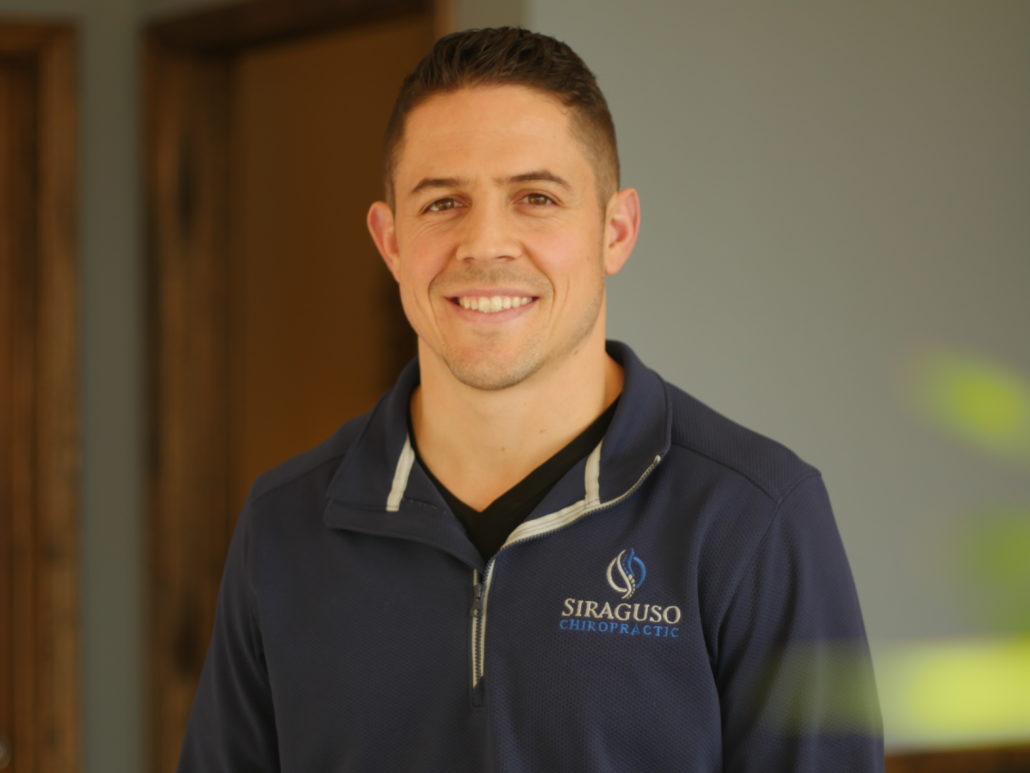 What people are saying about Dr. Frank Siraguso
I have nothing but great things to say about Dr. Siraguso. I've referred him plenty of times and will continue to do so to all friends and family. He is extremely educated in this field, gives great advice and is so kind/easy going. HIGHLY recommend!
Dr. Frank is the best! I had the best adjustment ever and I was so comfortable the entire experience. The cracking usually makes me tense and nervous but Dr. Frank was so good at adjusting that I didn't even notice. I've gone to a chiropractor before and never had the feeling of relief like I did after visiting Siraguso Family Chiropractic.
If you are someone who is a skeptic at least come in and talk to Dr. Frank and see what he's all about. You won't regret it!
I had a great experience at this practice. Frank has helped me and my wife on more than one occasion. He doesn't just give you an adjustment and send you on your way, he also gives you detailed instructions on how to exercise to prevent future injuries.
Dr. Siraguso is an incredible chiropractor! I recommend him to anyone in the Kearney area. He is kind, caring, and professional.
Dr. Frank is not only a great person, but a wonderful chiropractor. He truly cares about his patients, and gets fantastic results. I recommend anyone in the area to see him!
If you are experiencing any type of pain, or if you are looking for a doctor who will help you achieve your wellness goals, go see Dr. Siraguso!
Not just a good chiropractor but a good human. I definitely recommend him.